Editor Colleen Parker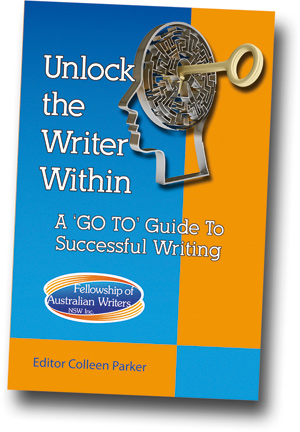 This 'go to' guide to successful writing has been developed by members of the Fellowship of Australian Writers to guide writers through the maze of many genres.
Amateur writers will delight in this helpful information that will inspire, motivate and encourage them to dip their toes into the sea of discovery through writing.
Price: $20.00 (reduced from $30) plus $12.00 postage & handling. ISBN 9781922050199
How to order
Send a cheque or money order (payable to 'Fellowship of Aust Writers') with your order, including postal delivery instructions, to:
Hon. Secretary, FAW NSW
3/91 Main Road
McLAREN VALE  SA  5171
Alternatively, you can pay online by direct deposit to BSB 082-936 Account 172389833. Please put "UTWW Book Sales" in the Message/Reference line, print the lodgement receipt for the transaction and submit a copy of the printed receipt with your order.