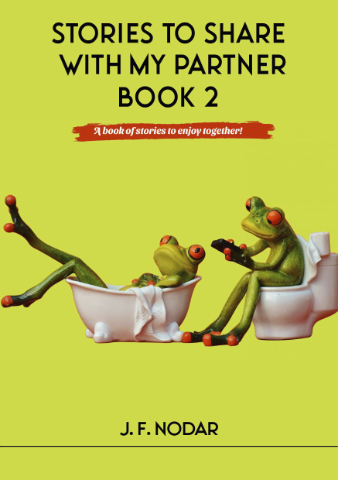 J F Nodar
The author says, 'Stories to Share with My Partner Book 2 is my second compilation of short stories and poems written in 2019 and 2020. The main reason for publishing these stories and poems is to again try, and I mean try, to make you smile and laugh at the outlandish storylines and to bring you a few minutes of fun.
Once again, these stories should take you no longer than four minutes to read, so sit back and enjoy some very easy reading.
From the first story, 'My First Book', which really got the whole idea of publishing in my mind to its fruition, to 'Sister Kate', based on a mostly true story in my youth. Ending with 'The Happy Valley Agency For Time Travel', all these stories sprung from my mind during one of the many writing meetings I took part in with a remarkable group of inspiring authors.
Not to say that the story 'Retirement Plan' did not cross my mind in my youth. Tell me who you know that does not want an easier life if he/she can get away with it.
My heroes in my youth arrive in my story 'Science Fiction Writers Of The Future'. How I would love to have something like this happen in real life. Thank goodness for the imagination we humans have!
My years at the orphanage are in some stories, for example, 'The Great Battle' and 'The Great Escape'; and 'The Most Unusual Job I Ever Had' actually happened but names have been changed to protect many of those involved … but if they purchase the book, they will see themselves and laugh.
During my many trips into the city, the sounds of 'The Train Journey' came alive in my mind, so I had to put them down on paper.
Going back to my youth, I based the story 'Listen To Your Heart' on a bullying moment that happened to me and stayed in my heart and soul ever since.
Finally, the poem 'Two Of Me' reflects what many immigrants feel as they embrace their new lives.
Once again, all these stories and poems are my attempts at the entertainment writing world.
Do I succeed? Only you will know after reading the stories. Thank you for your purchase and your support'.
Available from January 1, 2022 in paperback, large print, eBook, audiobook or CD format.
Visit jfnodar.com.au or email the author