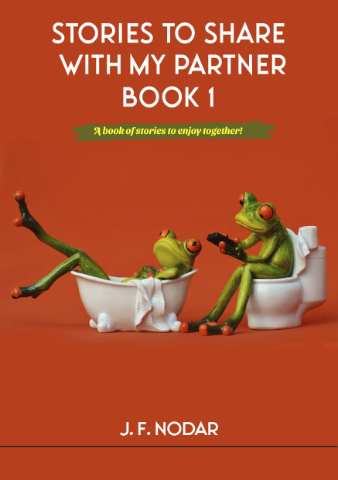 J F Nodar
The author says, 'Stories to Share with My Partner Book 1" is a compilation of short stories and poems written in 2018 and 2019, when I started writing for the first time. The only point of the stories is to try, and I mean try, to make you smile and laugh at the outlandish storylines and to bring you a few minutes of fun.
The stories should take you no longer than four minutes to read, so it is a quick in and out and very easy reading.
From the first story, '1000 Words', which is almost based on a true story, to 'Charlotte', which could be a scary story, but it is not, to 'Alone', these stories will take you into my mind – for a while, anyway.
Then there is the 'Concord Rhetoric Association Of Poets', completely made up on the spot one day at a local writers' meeting.
While I base the story 'My Favourite Bird' on a true event, there are some minor adjustments to make the story a bit more entertaining. I mean, who does not love their mother-in-law!
Then there is the store titled 'The Hunter'. Tell me after you read it if it has not happened to you.
As a young Boy Scout, the story 'Strange Things Are Happening In The Okefenokee Swamp' brings back those nights out in the woods camping and the stories told and shared by young imaginative boys.
I share a bit of fun with the reader in 'Alphabet', while I cover human vanity in 'Hasp'.
My attempt at poetry is so bad, but from the heart. 'I Remember' reflects my first meeting with my wife and my conversation with her later, recalling the day. This poem will let you know how the day went.
All these stories are my attempts at the entertainment writing world.
Do I succeed? Only you will know after reading the stories. Thank you for your purchase and your support'. 
Available from January 1, 2022 in paperback, large print, eBook, audiobook or CD format.
Visit jfnodar.com.au or email the author