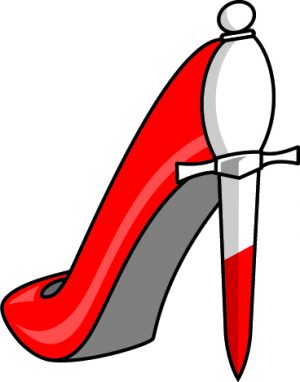 Closing date: 31 August 2019
A record $10,060 is up for grabs in Sisters in Crime Australia's 26th Scarlet Stiletto Awards for best short crime and mystery stories by Australian women. "It's worth killing for — at least on the page," said Tara Mitchell, a Sisters in Crime national convenor.
The 2019 Scarlet Stiletto Awards:
Swinburne University Award
1st Prize – $1500
Simon & Schuster Award
2nd Prize – $1000
The Sun Bookshop/Wild Dingo Press Award
3rd Prize – $500
Elephant Tree Publishing Award
for Best Young Writer (under 19) – $500
Melbourne Athenaeum Library Award
for Best 'Body in the Library' Story – $1000; $500 runner-up
International Association of Forensic Linguists Award
for Best Forensic Linguistics Story – $800
Every Cloud Productions Award
for Best Mystery with History Story – $750
Kerry Greenwood Award
for Best Malice Domestic Story – $750
Writers Victoria Crime and Punishment Award
for the Story with the Most Satisfying Retribution – value $660 (three-month studio residency at the Old Melbourne Gaol)
HQ Fiction Award
for Best Romantic Suspense Story – $500
Terror Australis Readers and Writers Festival Award
for Best Bushranger Story – $500
Clan Destine Press Award
for Best Cross-genre Story – $500
Liz Navratil Award (Queensland Chapter of Sisters in Crime)
for Best Story with a Disabled Protagonist Award – $400
ScriptWorks Award
for a Great Film Idea – $200
Closing date for the awards is 31 August 2019. Entry fee is $25 ($20 for Sisters in Crime members). Maximum length is 5000 words. The awards will be presented at a ceremony in Melbourne in late November.
To download an entry form and a list of FAQs or to pay the entry fee, go to: www.sistersincrime.org.au/the-scarlet-stiletto-awards