The 2019 Marjorie Barnard Short Story Award
Winner: Diana Blackwood, Aranda ACT, for 'Dissent'.
Read the prizewinning Marjorie Barnard story here.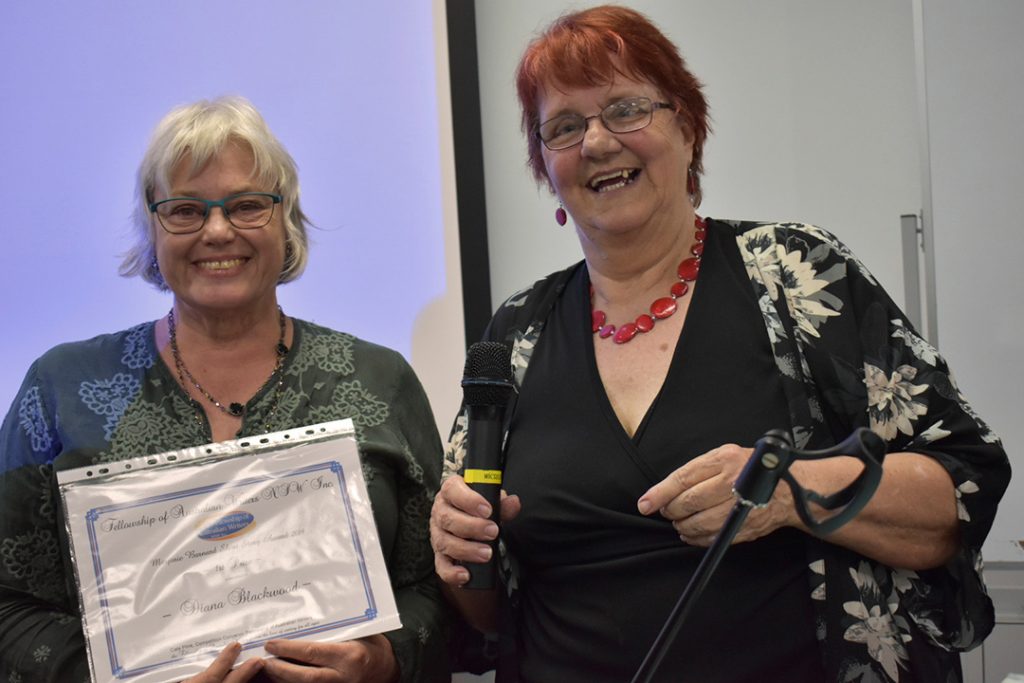 ---
The 2019 Hilarie Lindsay Young Writers Short Story Competition for Australian School Children
Section 1: Senior High School (Years 10, 11 and 12)
Winner: Carla Krnel, Stella Maris College, Manly NSW, for 'How Delicious'.
Section 2: Junior High School (Years 7, 8 and 9)
Winner: Willow Ross, Centennial Park School, Kingsford NSW, for 'A Flaw in Chemistry'
Section 3: Senior Primary (Years 5 and 6)
Winner: Jamie Lee, KE Academy, Epping NSW, for 'The Klynsendale Murders'
Section 4: Junior Primary (Year 4 and under)
Winner: Maia Kelly, Ivanhoe Girls' Grammar School, Macleod VIC, for 'Resistance'.
---
These results were announced by Competition Convenor Cate Plink at the annual Awards Lunch of the Fellowship of Australian Writers NSW Inc., held at Club York, 99 York Street, Sydney on Saturday November 2, 2019.
The Marjorie Barnard competition attracted 115 entries. Judge Pippa Kay selected 30 of those stories for her "to be read again" pile, which was shortlisted to 17, all of which she said were very good stories. Pippa said of the winning story: "I was impressed by the narrative voice and imagery. And I also felt it had a 'degree of difficulty' above the other stories because there is only one character… The final paragraph is memorable and moving."
For the Hilarie Lindsay Young Writers Short Story Competition, we received a total of 70 entries across the four sections, all submitted online via the Entry Form on the FAW NSW website. Entries closed on August 31, 2019. Competition judge Helen Armstrong thanked and praised all entrants and their teachers for their participation in this year's competitions and for the high quality of stories. Helen encouraged students to continue with their writing endeavours.