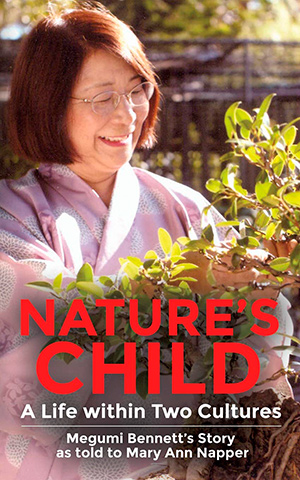 A Life within Two Cultures
Mary Ann Napper
From humble beginnings a small girl's love for nature takes her on a journey to become a horticultural giant.
This Asian inspired true story by author Mary Ann Napper begins in Tokyo when the city is being ravaged by war. Yoko Ugai (Megumi Bennett) grows up in a traditional Japanese family and becomes an ikebana (Japanese flower arrangement) teacher. Her fascination for Australian native flora leads her on a journey of horticultural discovery.
While facing the challenges of a new language and culture in Australia, Megumi Bennett provides leadership to a growing bonsai community and becomes internationally acclaimed as a bonsai artist, teacher and demonstrator. In 2007 she is formally recognised by the Japanese and Australian governments for her promotion of friendship, goodwill and peace.
Available from online bookstores: www.books2read.com/natureschild; through Amazon or from: www.maryannnapper.com.au.
ISBNs:
POD: 9780992317423
EPUB: 9780992317430