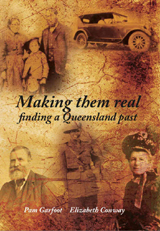 Pam Garfoot and Elizabeth Conway
After their father's death, two sisters find a diary written at Gallipoli by their grandfather, Percy Gooch. It captivates them, compelling them to bring alive not only Percy's story but also that of their family's beginnings in Australia.
The authors record their findings and describe how they feel about significant events in their voyage of discovery. Their unique style combines different writing streams: historical narrative, personal memoir, and practical guidance. At each chapter's end helpful explanations are given, illustrating how the story has been uncovered.
The narrative spotlights the life of each ancestor before emigrating to colonial Australia. Thomas Gooch, Percy's grandfather, brings his family to Australia in the mid-nineteenth century, but cannot find fulfilment. The Talbot and Ussher families make scandalous voyages to Queensland, by chance on the same clipper ship. A little girl arrives in Queensland with her parents, fleeing poverty in Scotland as employment declines. A young man escapes unhappiness in Warwickshire and changes his identity to begin again in another country. The lives of these ancestors become intertwined in Central Queensland's frontier grazing properties and pioneer mining settlements.
A substantial bibliography shows how wide research has supported the historical narrative. Photographs, maps and charts complement each story.
The authors' discoveries illuminate their family history and the life of a grandfather they hadn't met, whose diary was the project's catalyst. They follow Percy to Gallipoli and the Western Front, then back to Queensland where he marries and raises a family, all the while coping with the legacy of his war service.
What the authors find is more than just historical fact. They discover new passions and skills, delightful friends and unknown family members. Sometimes they unearth stories that are hard for them to deal with. Ultimately, they reach acceptance that what is revealed contributes to making them who they are and to the making of Australia.
The voyage helps to document the history of Australia's past and brings a richness to the authors' lives which they will treasure always.
The book is available via this link.