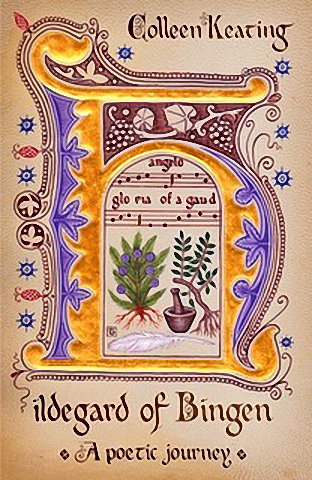 Colleen Keating
ISBN 978 1 76041 766 6, 248pp
Available from the publisher www.ginninderrapress.com.au or directly from the author, Colleen Keating: email
Reviews:
"What an oeuvre! What a superb and elaborate work! These nine books of poems by Australian poet Colleen Keating tell Hildegard's story in a stunning way. The reader feels put into the landscape and ambience of Hildegard's medieval cloistered world. Thus I highly recommend reading, tasting and meditating on this poetic journey with Hildegard of Bingen." Dr Annette Esser, Founder and President of the Scivias Institute for Art and Spirituality, Germany.
"Hildegard of Bingen was a woman of extraordinary creative expression and this book approaches her wisdom through the gift of poetry which allows us to move into a more intuitive space. It is a book to slow us down, that invites us to ponder, and calls us to follow Hildegard towards a growing greenness in our lives." Christine Valters Paintner, PhD, REACE, Abbey of the Arts.
"Hildegard's life sings and dances across the pages of this engaging harmony of her works, set out in this poetic journey that commences at the twilight of her life and rewinds back through the lens of time. Hildegard's many gifts—including her charm—are expertly embedded. A very enjoyable and fascinating read." Dr Christine Cameron.
"Colleen Keating brings to this impressive collection some very fine, positively Hildegardian qualities—a robust earthiness, an inner strength, a passion for justice and a fiery light." Dr Mary O'Connell.