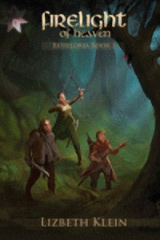 Elizabeth (Lizbeth) Klein
When an assassin infiltrates a secret meeting, Robbie and Dougray are plunged into a fast-paced journey of discovery. Faolan, their supposed grandfather, sends them over Black Horn, the forbidden mountain, where life is very different to what they know on their farm. Here they meet an Elf girl called Belle Shadow-Chaser and when Robbie is apparently killed, Belle's faith offers Dougray hope in his grief-stricken state.
Meanwhile, Robbie has survived a turbulent swim in the river. They manage to rescue Robbie and discover the scarlet crystal inside the lair. It spins its magic, and to Dougray's horror, he learns that he was the assassin at the secret meeting. Because of him, many people died. Now he must seek forgiveness from those he loves.
Books priced at $16.95 can be purchased at Wombat Books, Berkelouw at Cronulla, Koorong at Ryde or ordered from any bookstore. You can also contact the author for copies at ua.mo1516745578c.lia1516745578mezo@1516745578kmihd1516745578naem1516745578